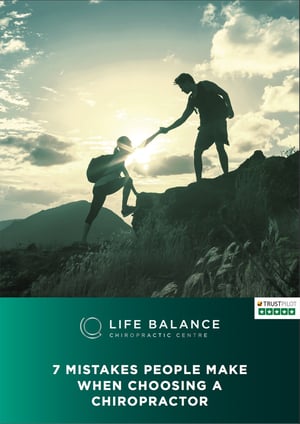 A Beginner's Guide to Choosing
The Right Chiropractor for you.
GET STARTED WITH YOUR FREE GUIDE
Living with unresolved pain? Overstressed? Been Letdown?
Become and insider! You'll get my weekly emails and my exclusive special report:



Our main goal is to help you make the best decision about your what to do next for your health. When considering or making a decision to see a chiropractor it can be tricky; there are lots of physio's, Osteo's and Chiro's now all doing very similar things and most of them making the same type of claims. We are going to share with you the seven critical mistakes we see people making
repeatedly when picking the right chiropractor for them.

What You'll Learn in This Free Guide
The activities and readings in this free guide will help you gain greater control, fine-tune your awareness and empower your choices, encouraging active participation over the decisions you have when it comes to your health and life balance. These 7 Mistakes are designed to help you find a chiropractor that is right for you. This way, you can apply what you learned so you don't make the silly mistakes and find the best fit for you.
BY READING THIS GUIDE, YOU WILL:
Learn the best strategies to find a great chiropractor for your needs and goals
Learn that price is just one consideration when choosing a chiropractor
Learn the important considerations when it comes to location

Learn that longer in practice doesn't necessarily mean more experience
Learn why being specific makes all the difference between long-term results and short-term.
Learn the 3 things you can do to feel more certain when talking to a potential chiropractor
Learn time is relative and its the result that matters.