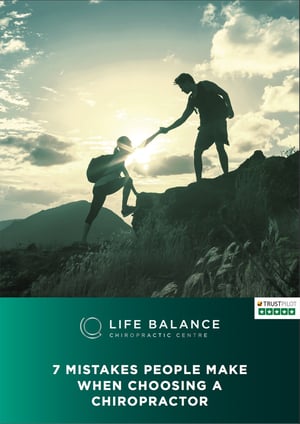 7 MISTAKES PEOPLE MAKE WHEN CHOOSING A CHIROPRACTOR
A Beginner's Guide to Choosing
The Right Chiropractor for you.
Choosing a chiropractor has sometimes a lot of taboo and
so can be tricky; there are lots of physio's, Osteo's and
chiropractors now doing very similar things and most of them
making the same type of claims. We are going to share with
you the seven critical mistakes we see people making
repeatedly when picking the right chiropractor for them.

What You'll Learn in This Free Guide
The activities and readings in this free guide will help you gain greater control, fine-tune your awareness and empower your choices, encouraging active participation over the decisions you have when it comes to your health and life balance. These 7 Mistakes are designed to help you find a chiropractor that is right for you. This way, you can apply what you learned so you don't make the silly mistakes and find the best fit for you.
Get ready to feel more empowered, more engaged, experience a better quality
of life and find your life balance.
Quantum Chiropractic is an award-winning & recommended family Chiropractic Centre that maximises the health of families by using the latest neuroscience, technology & our own health ethos.

BY READING THIS GUIDE, YOU WILL:
Learn the best strategy to find a great chiropractor for your needs and goals
Learn that price is just one consideration when choosing a chiropractor
Learn the important considerations when it comes to location

Learn that longer in practice doesn't necessarily mean more experience
Learn why being specific in chiropractic for your health is the difference between long-term results and short-term.
Learn the 3 things you can do to feel more certain when talking to a potential chiropractor
Learn time is relative and its the result that matters.
FREQUENTLY ASKED QUESTIONS
Why do I need to fill out the information requested?
We will always keep your personal information safe. We ask for your information in exchange for a valuable resource in order to (a) improve your browsing experience by personalising the Quantum site to your needs; (b) send information to you that we think may be of interest to you by email or other means; (c) send you marketing communications that we think may be of value to you. You can read more about our privacy policy here.
Is this really free?
Absolutely. Just sharing some free knowledge that we hope you'll find useful. Keep us in mind next time you are in pain and want some help or have any questions! Our Chiropractors would be more than happy to help to you answer any questions you may have.
Quantum is a unique chiropractic system and process that helps families maximise engagement, quality of life and life balance. We house an award-winning & recommended family Chiropractors.